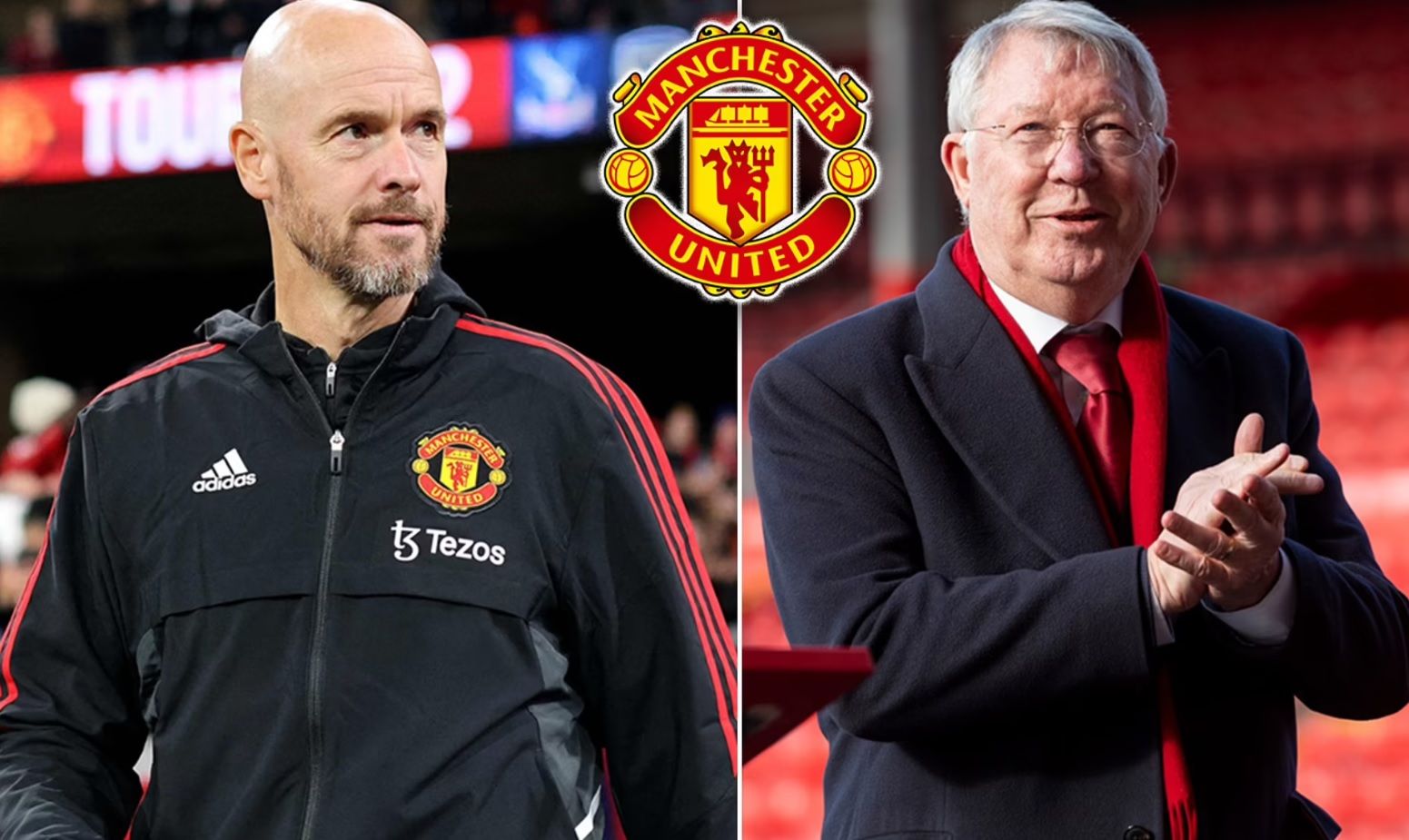 Has the return of the "Red Devils" truly begun? Let's compare the main squad of players from the past and present. The poll will be at the end of the article.
In the 2012/2013 season, Manchester United became champions for the 20th time. On May 19th, Sir Alex Ferguson had his last match as the head coach. His successor was already known: David Moyes. Many Manchester United fans were worried that the departure of Ferguson would usher in dark times. The most pessimistic warned that the turmoil would last long.
In his final game at Old Trafford, Ferguson delivered an emotional speech. Along with expressions of gratitude, he said, "When we had bad times, the club was always there. Your job now is to support the new manager. It is important."
Ten years later, a coach like that has appeared at Old Trafford. No, Manchester United fans tried to support Moyes, Van Gaal, Mourinho, and Solskjaer. However, Erik ten Hag brought back to this great club, which had been stuck in problems, high standards, discipline, and belief. Symbolically, ten Hag spoke in front of Old Trafford after the season's final match in the Premier League.
In his first season, the coach led Manchester United to a third-place finish in the Premier League, victory in the League Cup, a record number of home wins, and finally, to the FA Cup final. There, United faces perhaps the season's biggest challenge – the final test in the derby against City.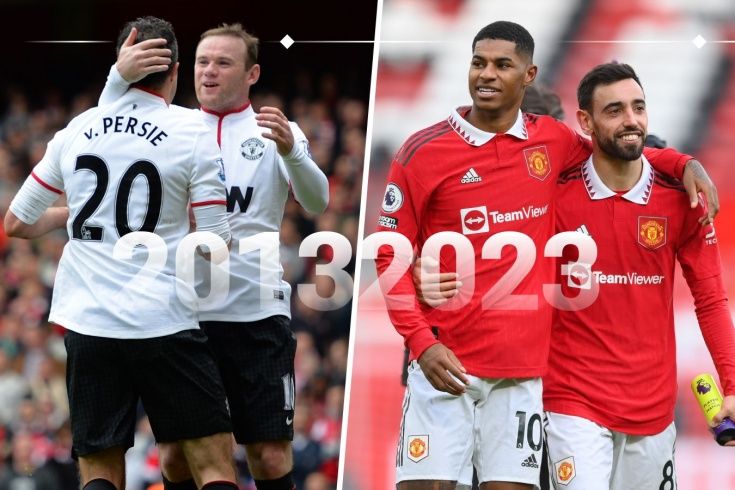 Manchester United in 2012/2013 and Manchester United in 2022/2023 share at least one similarity: the 4-2-3-1 formation. The squads are selected based on two criteria: number of matches, time on the field, effectiveness, and status. Therefore, for example, in the center of defense for 2012/2013, it's Johnny Evans who played significantly more, while for 2022/2023, it's Lisandro Martinez, who was only removed from the starting lineup due to a severe injury.
Goalkeeper: David de Gea > David de Gea
Yes, a player from the last Ferguson era in modern Manchester United exists. Phil Jones is technically still there but hasn't played and is leaving. However, the new contract for the goalkeeper hinges on the question of how important de Gea is for the future of Manchester United. It wasn't even a topic of discussion 10 years ago.
In the summer of 2011, Manchester United paid €25 million for a tall 20-year-old lad from Atletico. It was a lot of money then, but the motivation is understandable. Sir Alex worked on fixing the mistakes and wanted to solve the number one problem for many years. By the 2012/2013 season, it became clear why de Gea was chosen. The young goalkeeper made some mistakes but also made fantastic saves and demonstrated his reflexes. A 77.2% save percentage and 11 clean sheets in the Premier League were a great addition to the gold medal.
In 2023, de Gea had a 70.9% save percentage and kept 17 clean sheets, earning the "Golden Glove" award. However, his impact on the game is debatable. As a shot-stopper, David is still good and pulls off impressive saves. However, van der Haag wants something else from the goalkeeper: confidence in coming off the line and calm passing to elevate the defensive line. De Gea made too many critical mistakes in his passing this season. And the award for the best goalkeeper is not only David's merit but also the whole team's, which has learned to shut down games.
In short, it's the same goalkeeper, but they are different players. In 2012/2013, de Gea was more valuable for Manchester United than the current de Gea.
Right-back: Rafael da Silva = Diogo Dalot
The da Silva twins, Fabio and Rafael, arrived at Manchester United in 2008 when they were very young, with Fabio considered more talented. However, Rafael turned out to have a stronger character. Carlos Tevez, Liverpool defenders, and many referees felt his presence as he got into arguments and physical battles. He also handled his direct responsibilities well, working hard on the flank and supporting the attack. He was the Brazilian version of Gary Neville.
In the 2022/2023 season, Manchester United relies on Diogo Dalot and Aaron Wan-Bissaka on the right side, but Diogo has played more and is the first choice for van der Haag. That's why one received a new contract until 2028, while the other may leave in the summer. Dalot is better than Wan-Bissaka in positional attacks; he can advance the ball and is less aggressive in interceptions. Also, Wan-Bissaka needs help with effectiveness. Throughout the season (41 matches), he scored two goals and provided three assists. In this regard, he is similar to Rafael in 2012/2013, who had 3 goals and 4 assists in 40 matches.
Central defender: Rio Ferdinand = Raphael Varane
The 2012/2013 season was Ferdinand's final season. A sixth championship title, the Premier League team of the year, and a goal in Ferguson's last match at Old Trafford – it was beautiful! After that, there was an attempt to work with David Moyes, injuries, QPR, and the official end of his career. But in the last championship-winning squad, 33-year-old Ferdinand was a rock. He was feared and respected – his iron self-confidence compensated for any shortcomings in speed and mistakes.
Regarding character, Varane has a different impact on his partners. He's simply another type of person. Standing next to a 30-year-old world champion and four-time Champions League winner, 25-year-old Lisandro Martinez appears more confident and tough.
However, Varane's class is not up for discussion; when he's on the field, the overall level of Manchester United rises. On the other hand, Raphael Varane is not the best fit for the style Van der Haag wants to adopt.
Central defender: Johnny Evans < Lisandro Martinez
Nemanja Vidic could have represented the team in the past, but he played fewer matches that season due to injuries. So Evans rightfully replaced him. For the 24-year-old Northern Irishman, the 2012/2013 season was not his first, but it was eventful. However, it was still being determined whether Evans lived up to the status of a top club.
Like any young player, he was given an extended credit of trust – his mistakes and failures were attributed to a lack of experience. Evans didn't strive to be a leader; the role of a follower alongside Ferdinand suited him perfectly.
At the same age, Martinez had just arrived, but he quickly gained authority. Besides adapting to the game, he faced the attention of the famous British media. Fans and experts competed in-jokes about the Argentine's height, but Van der Haag immediately placed him in central defense. Lisandro skillfully held his position, intelligently chose his moments, and won aerial duels. He chopped down opponents with fierce tackles to make things a bit more entertaining. And that's where the jokes ended. In addition, the "Butcher," as the Man Utd fans called him, regularly contributed to the attacks. A great season was spoiled by an injury that kept him out until summer. However, his place in the lineup is confident. In terms of character, he is undoubtedly closer to Vidic than Evans.
Left-back: Patrice Evra = Luke Shaw
Evra was irreplaceable; in that season, he played more than anyone else: 42 matches out of 44 or 3780 minutes. A classic full-back, Patrice tirelessly worked on the left side. He would win the ball and rush to cross or shoot. Although, at times, he allowed himself to burst into the penalty area. Four goals were his best result.
Shaw surpassed Evra in terms of matches played (46), but it was a memorable season with 52 games. Moreover, Luke played not only in his natural position but also in the center of defense. Overall, he adapted well to Van der Haag's demands: capable of stretching the opposition's defense with his flank work and shifting and overloading the center to advance the ball.
They have different styles but are of similar importance to the starting lineup.
Central midfielder: Michael Carrick = Casemiro
Carrick could surpass Casemiro's influence on the team's attacking organization if a classic Casemiro came to the Premier League. In the 2022/2023 season, we saw how talented the Brazilian is in attack. Long passes, finding free spaces, unconventional decisions like no-look passes—no problem. Long-range shots—no problem either. Overall, it's a tie.
Even in terms of being late to challenge opponents, Carrick and Casemiro are similar. The only difference is that the Brazilian would make a sliding tackle due to his character (and old habits).
Their influence on the dressing room is also on the same level. Carrick was the vice-captain and a representative of the old guard—who won the Champions League in 2007/2008. Casemiro came to the team with all his medals after the 0-4 loss to Brentford. Instead of falling into depression, he told his agent, "Tell them I will come and fix it." And he kept his word: the difference between "Man Utd" with Casemiro and without him was evident during his two suspensions. These red cards, by the way, grounded the Brazilian well, making him realize that the Premier League is not only about different speeds and intense battles in every match but also the lack of reverence even for accomplished individuals like him.
Central midfielder: Tom Cleverley < Christian Eriksen
Under Ferguson, there were several options in the midfield, but Cleverley won the competition that season. Fletcher was too specialized, Anderson was a mood-dependent player, and Scholes, although significant, was 37 years old. Everything fell into place for Cleverley to make a name for himself. Tom brought energy and struck powerful shots from a distance but couldn't sustain it in the long run. Similar to Evans' story.
With Eriksen, it's different. He is not just an established player but someone who returned from the brink. What was uncertain just a year and a half ago about whether Christian would continue in football is now forgotten. The Dane first got himself in shape at Brentford (and improved the team's play), and this season he has already contributed with 12 goals. Precision passes, controlling the tempo, and perfect collaboration with Bruno and Casemiro—Eriksen embodies all that. Neither Fred, Zabitser, nor McTominay could take his place in the starting lineup. As soon as Eriksen recovered from his injury, he returned to the squad immediately.
Right winger: Antonio Valencia > Antony
Valencia was not the first victim of the legendary number 7, but he was among the most questionable holders. Ferguson's decision to give the "7" to a modest Ecuadorian worker was surprising. It was presumed that the number associated with Best, Cantona, and Beckham would add some audacity to Antonio. But it didn't work out—Valencia remained himself. He diligently plowed the right flank, exceeding the plan for crosses. In the summer of 2013, Valencia returned the "7" and wore the number 25 shirt again.
"The curse of the number 7" has yet to be lifted, and one of the contenders for the legendary number is Antony. The Brazilian certainly surpasses Valencia in audacity and even showmanship. Although he quickly realized the level of the Premier League and no longer allows himself too much, he still likes to show off. However, he is also ready to work for the team, fully understanding the demands of ten Hag.
However, for now, Valencia appears to be more advantageous in comparison. Even in terms of cost, he was cheaper than Antony, and as a cog in the system, he is simply perfect. Valencia would probably win the competition against Antony, allowing him moments of rotation when it's necessary/possible to shine with creativity.
Left attacking midfielder: Ryan Giggs > Jadon Sancho
The position of the left winger has the most challenging pair: a 38-year-old graying legend and a 23-year-old talent with unrealized expectations. Ironically, both have connections to the "Man City" academy: Giggs was taken at a very young age, while Sancho was bought at a high price from the "Dortmund" hotbed.
Sancho has the potential to shine like the "Golden Ball," but for now, he is a psychologically fragile player. Giggs fearlessly took on the entire "Arsenal" defense in his younger years and only stopped running when he scored. Jadon hesitates in his decision-making; his tricks sometimes seem suitable for a highlight reel of "What if something goes wrong," and he is not given enough space in the Premier League. However, in the 2022/2023 season, Sancho played 40 matches in all competitions, earning the coach's complete trust. However, in the next season, if he doesn't change his approach, he will lose the competition to Alejandro Garnacho.
As for Giggs, even at 38, the Welshman played 32 matches (1789 minutes) in a season. Sir Alex had Shinji Kagawa, Luis Nani, and Ashley Young for effective rotation, but they had different influences.
Attacking midfielder: Wayne Rooney = Bruno Fernandes
By the 2012/2013 season, Rooney had reached a stage where he realized his status had changed. The team needed a proper striker, and that guy arrived (van Persie). Meanwhile, Wayne became a playmaker, box-to-box midfielder, and almost a trequartista. He performed admirably, and Rooney enjoyed the functions of an attacking organizer. Of course, his goal-scoring essence broke through as Rooney was often an all-around attacking forward. In addition to his 14 assists, he added 16 goals.
Bruno Fernandes is also responsible for everything related to creativity; in that aspect, he is more potent than Rooney. The Englishman is still the top scorer in the history of "Man United," but Bruno doesn't aim for leadership in that race. Fernandes is the perfect second pilot, a conveyor belt producing moments. In terms of pre-goal situations, he is a leader in Europe, and if all chances were transformed into goals, Bruno would be the leader in the Premier League for assists. However, for this, the team needs a striker.
Striker: Robin van Persie > Marcus Rashford
There is conditionality in this comparison: van Persie is a striker in the flesh, while Rashford started as a winger and feels most comfortable on the left flank. Nevertheless, he is the central striker of "United" in the 2022/2023 season and the only hope for goals. Martial is permanently injured or dissatisfied, and Veghorst couldn't handle it. Rashford has played many matches in the center of the attack, and he even improved, for example, in his head during games.
But he still needs to be van Persie, especially not van Persie of the 2012/2013 season. Ferguson built a rocket, but there was no engine. And in the summer of 2012, he bought the Dutch-made RVP-20 – and they took off. Ten Hag is currently in search of a similar mechanism.
02.06.2023