Running 100 meters in 11 seconds and inspired by Ronaldo.
According to Transfermarkt's data, the transfer of Danish forward Rasmus Højlund from Atalanta to Manchester United for 75 million euros has taken place among the top five most expensive summer transfer deals. The English club paid a significant amount for the 20-year-old player, who has only played one season in the elite league and has never appeared in the main stages of the Champions League or the Europa League.
ManUnited signed the Dane as a central forward. In pursuit of his signature, the club turned down negotiations with stars like Harry Kane from Tottenham and Victor Osimhen from Napoli. Transfermarkt values the captain of the England national team at 90 million euros and the Nigerian national team forward at 120 million euros.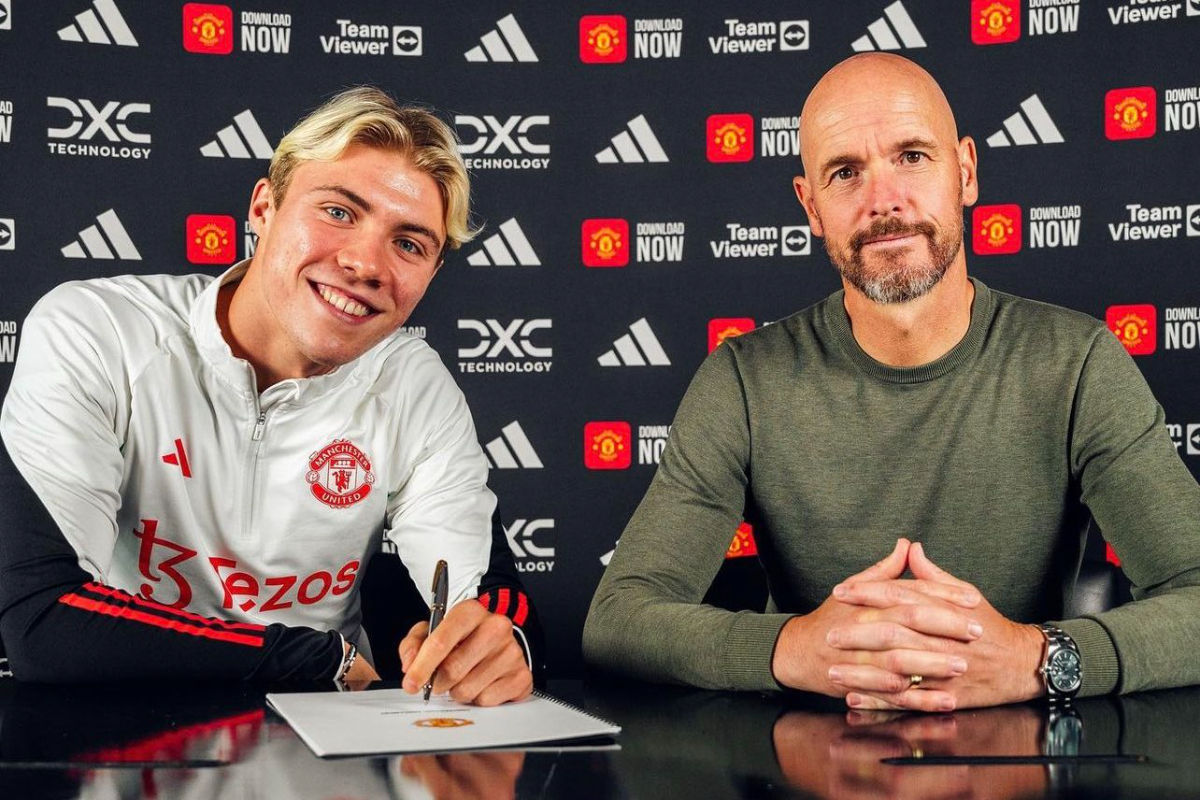 Even before the official announcement of the transfer to MU, Højlund was already being compared to Norwegian forward Erling Haaland of Manchester City. There are obvious parallels: Scandinavian origin, similarity of surnames, and playing style. Analogies can also be drawn regarding their career development. Both players started in their local leagues and became prominent with top clubs. Haaland played for Molde, RB Salzburg, and Borussia Dortmund before joining City. Højlund's career stages at the time of his transfer to MU included Copenhagen, Sturm, and Atalanta.
"Based on his characteristics, Højlund is very similar to Haaland," said Atalanta's head coach Gian Piero Gasperini about the Dane in February. "Rasmus has a strong character, energy, high intensity, and impressive technical skills. He's so fast that he can cover 100 meters in less than 11 seconds. Moreover, he still has potential for improvement."
Interestingly, Haaland could have ended up at United. This was pursued by the legendary MU striker and scorer of the team's winning goal in the 1999 Champions League Final, Ole Gunnar Solskjaer. In 2018, he worked with Haaland as the head coach of Molde. From December 2018 to November 2021, he led ManUnited.
"I called United about half a year before my arrival and said I had an interesting forward, but they didn't listen. I was asking for only 4 million euros, but they didn't sign him," Solskjaer candidly revealed in an interview with The Sun in May 2023.
The most significant difference between Haaland and Heilund is their goal-scoring statistics. Starting from the 2019/20 season at RB Salzburg, Haaland has averaged around a goal per game each year. Højlund's numbers are much more modest: no goals in 19 matches at Copenhagen, nine accurate shots in 18 games at Sturm, and nine goals in 32 matches at Atalanta.
However, starting in 2023, Højlund has emerged as a top scorer. During this period, he has been receiving more starting opportunities at Atalanta (due to the injuries of Colombian player Duván Zapata) and scored eight out of nine of his Serie A goals. In March, Højlund debuted for the Denmark national team and scored five times in his first two starts against Kazakhstan and Finland. These achievements allowed Atalanta to comfortably recoup the funds spent on his transfer, as they acquired the Dane from Sturm for 20 million euros in August 2022.
Manchester United has paid more for Højlund than City did for Haaland. According to Transfermarkt, the transfer of the Norwegian from Borussia Dortmund in the summer of 2022 cost 60 million euros.
The need for a top scorer at MU is highlighted by the statistics from the previous season. Among the Manchester players, Marcus Rashford scored the most goals in the English Premier League (EPL) (17). However, Rashford admitted that he felt uncomfortable playing as a forward. Among the other ManUnited players, no one else surpassed the 10-goal mark in the championship.
MU believed in Højlund's prospects, offering him a five-year contract with the option of extending for another season. Former team defender Rio Ferdinand praised the club for the transfer. In an interview with The Athletic, he not only assessed the new player's qualities ("he's agile, fast, aggressive, and can score") but also praised MU for swiftly completing the deal. "In recent years, every transfer turned into a saga. There was always a 'will-he-won't-he' scenario. And now something new has happened. The club quickly realized they wouldn't get Kane, or it would be a protracted saga, so there was no point. I like this approach," Ferdinand said.
In an interview with the club's television, the newcomer stated that he was inspired by another club legend, Cristiano Ronaldo. Højlund noted Ronaldo's motivation: "When asked who the best footballer in the world is, he simply replied, 'Me.' I like this mentality; it's the same mentality I strive for," the Dane said. The player's father, Anders Højlund, a professional footballer, revealed that his son adopted Ronaldo's love for training to the extent that he did push-ups and squats every night before bed, even when he had the flu or a cold.
Coach Christian Ilzer, who worked with Højlund at Sturm, confirmed that the Dane considers Haaland and Ronaldo his role models. Ilzer also highlighted qualities like the absence of complexes and sporting audacity in Højlund. According to Ilzer, after scoring a brace in one of the matches for Sturm, Højlund told journalists about his idols and stated that he wanted to surpass their achievements.
"He accompanied this statement with a confident look as if saying, 'Do you dare doubt? Haven't you seen what I'm capable of?' Rasmus has always been a very confident guy. If you don't know him, he might seem audacious. But his playing qualities—instinct, speed, and intelligence—are well above average. With his talent, there can only be one goal: to become one of the best players in the world."
09.08.2023