On the last day of summer, the group stage draw for the UEFA Champions League took place. All teams discovered their opponents in Europe's premier club competition. Let's dive into the most interesting narratives of the upcoming Champions League.
Here are the results of today's Champions League draw, all in one picture: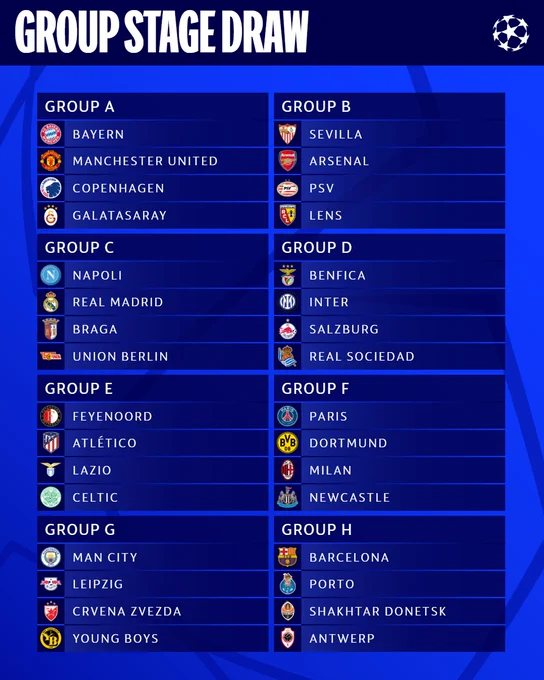 Now, let's take a closer look at each group, identify the favorites and underdogs, and savor the tastiest dishes prepared for this season's Champions League feast.
Group A:
Bayern Munich
Manchester United
Copenhagen
Galatasaray
Wow, Bayern Munich vs. Manchester United! Another rematch of their classic clash from the 1999 final awaits us. Back then, the Mancunians turned a 0-1 deficit into a 2-1 victory, scoring twice after the 90th minute. In the overall history of battles between Bayern and Man Utd, the advantage leans toward the Germans, with four wins compared to the English side's two. The other five matches ended in draws.
Logic dictates that regardless of the head-to-head results, Thomas Tuchel's and Erik ten Hag's teams should advance. Undoubtedly, their level is higher than that of Galatasaray and Copenhagen. However, the Turks could spring a surprise with their impressive squad led by Icardi.
Group B:
Sevilla
Arsenal
PSV
Lille
Sevilla faces a challenging task to advance to their beloved tournament, the Europa League, based on their performance in the Champions League group stage. In this quartet, the Spaniards and Arsenal are the clear favorites. Despite a rocky start in La Liga, where they lost all three matches with narrow scores (1-2 to Valencia and Girona, 3-4 to Alavés), Sevilla showed in the Super Cup clash with Man City that they can rise to the occasion when needed.
The sensation of last season's Ligue 1, Lille, also had a shaky start in the French league, with just one point in three matches. Despite PSV's European experience, they possess different resources than top league representatives.
Group C:
Napoli
Real Madrid
Braga
Union Berlin
Madrid beckoned Hvicha Kvaratskhelia, and here we go! Napoli will play in the same group as Real Madrid in the Champions League group stage. The Italian champions and the "Los Blancos" are expected to advance to the Champions League knockout stage. There's no sense that the team has weakened after Luciano Spalletti was replaced. Kvaradona and Osimhen are still in Naples, so their attack will continue to shine.
Union Berlin and Braga are set to play supporting roles in this spectacle. While the Berlin team surprised in the Bundesliga last season and started the current season well with two big wins, they can't compete with Real Madrid and Napoli.
Group D:
Benfica
Inter Milan
Red Bull Salzburg
Real Sociedad
Inter Milan is the favorite in this group, having been finalists in the last Champions League edition. However, Real Sociedad won't simply hand over the second spot. Benfica's level was evident last season when they reached the quarter-finals and narrowly lost to Inter Milan (0-2 at home and 3-3 away). Red Bull Salzburg is always a threat with their aggressive style.
Group E:
Feyenoord
Atletico
Lazio
Celtic
In this group, there appear to be two clear favorites and two "underdogs" at first glance. Atletico and Lazio (who had a poor start in Serie A) see themselves in Round 16. At the same time, Celtic and Feyenoord quietly dream of making it to the playoffs. They are probably relieved not to have drawn, for example, Real or Napoli. This may be the least intriguing quartet in the Champions League. Although it's worth watching Celtic play at home just for the electric atmosphere in the stands.
Group F:
PSG
Borussia Dortmund
Milan
Newcastle
In this Champions League, there's also a "group of death." At least one of the teams that could have quickly advanced in any other quartet will finish at the bottom and end their European season prematurely. It will be a blow to their image and club earnings. The draw has been harsh for Dortmund's Borussia, Milan, or Newcastle. It's hard to believe that PSG won't make it to the top 2, even though Paris, despite keeping Mbappe, may face some challenges.
There are also intriguing personal battles in this group. PSG's goalkeeper Donnarumma will return to Milan, where he left amid the fans' backlash. Milan's former leader, midfielder Tonali, will also return to the San Siro: this summer, Sandro was sold to Newcastle for €64 million.
Group G:
Manchester City
RB Leipzig
Red Star Belgrade
Young Boys
For the reigning Champions League winner, ManCity, the group stage is a piece of cake. Pep Guardiola's team demolished their main competitor, RB Leipzig, in the Round of 16 of the previous Champions League (7-0 at home after a 1-1 draw away). Back then, Guardiola was playing for the Germans. Now he's part of the City squad after a record €90 million transfer.
The main intrigue here: how many goals will Haaland score against the Germans, Serbs, and Swiss. The Norwegian has a phenomenal scoring record in the Champions League – more than a goal per game! He has netted 35 goals in 30 matches.
Group H:
Barcelona
Porto
Shakhtar Donetsk
Antwerp
It's time for Xavi to lead Barcelona out of the group and into the Champions League playoffs. When, if not now? In this quartet, there are no teams that can scare them. Yes, Porto performed well in the last Champions League, giving Inter a tough fight in the Round of 16 (the "Dragons" lost 0-1 on aggregate). But in the summer of 2023, Otavio left the team, and Taremi is likely to depart, while the aging central defenders continue to get older, making it difficult for the Portuguese to maintain their previous level.
Shakhtar Donetsk is no longer associated with Brazil, even though there are still foreign players from that country on the team. As for Antwerp in the Champions League, people are still determining what to expect. Barсa and Porto are likely to take the top two spots.
What else can be added after the Champions League draw? Perhaps it could be better, as there will be fewer top matches and genuinely thrilling rivalries. Unfortunately, the final group stage in the tournament's history has turned out this way, signaling that changes are indeed on the horizon.
01.09.2023