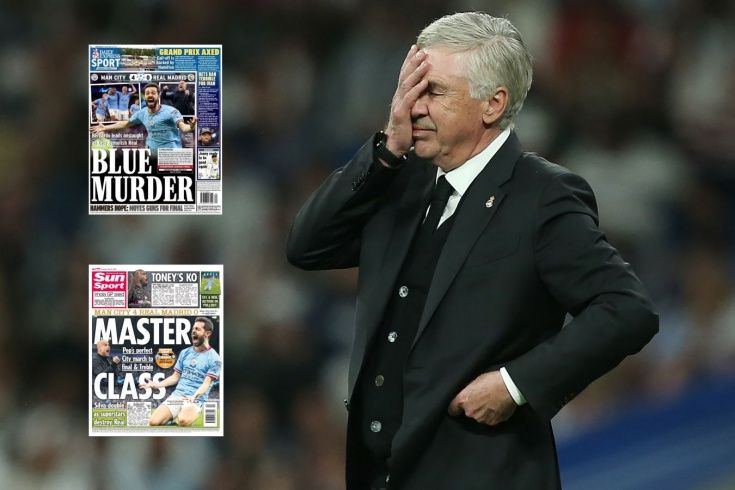 In Spain and England, the complete superiority of Guardiola is recognized.
"Manchester City" crushed "Real" at home: four unanswered goals, pressure, and total dominance in the Champions League semifinals. Carlo Ancelotti's team couldn't do anything to withstand Pep Guardiola's powerful machine.
Who will win the UCL this season? Place your bet on 1x2sportbets.com.
Madrid sadly acknowledges the defeat and the power of "City," which "Real" couldn't resist, while Catalonia mocks its main rival. "Beating those who hurt," reads the headline in Marca. "To tears," wrote AS on the cover, accompanying the headline with a photo of Karim Benzema wiping away tears. Meanwhile, the Catalan Sport placed a picture of the triumphant "City" players on the front page, stating, "City wipes the floor with 'Real.'"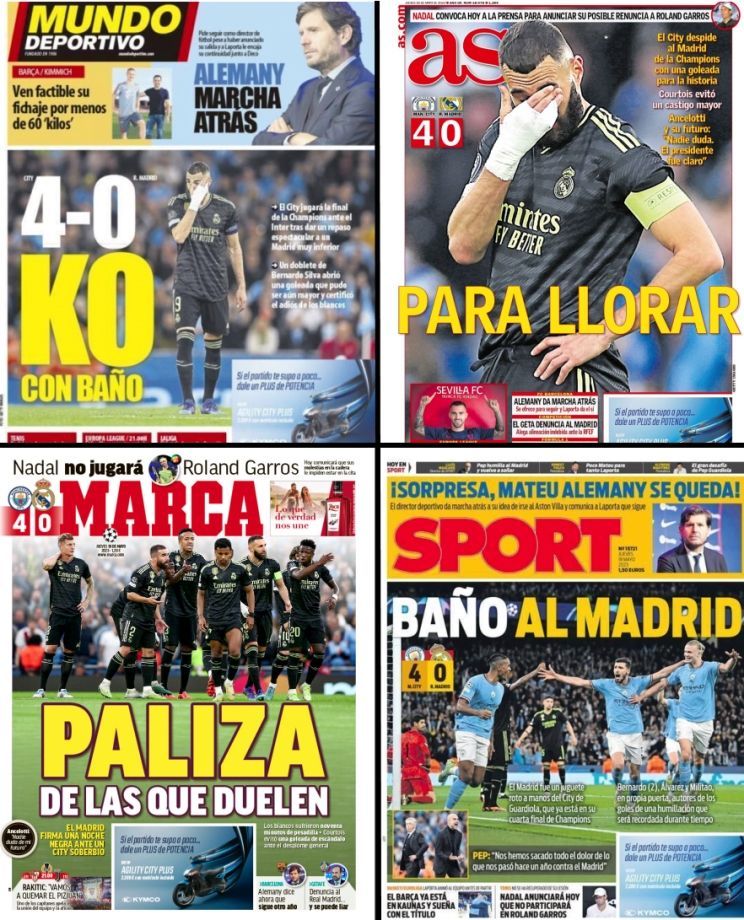 Marca: "City" crushed the champion
Pep Guardiola's Manchester City dethroned the king of Europe in every aspect: quality of play, intensity, organization, and talent. "Real" couldn't compete with Guardiola's team. Losing in midfield, where games and titles are usually decided, "Real" conceded four goals, and that's despite Courtois saving three powerful shots from Haaland. Such was the global superiority of "City" that they didn't even need the services of their top striker. Rodri ruled Grealish filled the space, De Bruyne invented, and Bernardo Silva decided—this was a collective and undeniable triumph. Nothing worked for "Real," neither Ancelotti's plan nor his most reliable players. Benzema, Modric, Valverde, Vinicius... No trace of the team that always seemed to know how to win. It's a heavy defeat that forces a reassessment of the team—from the bench to the big stars.
It has been said often that this will be the year of "Manchester City." They have had a season full of epic moments: from signing a contract with Haaland to the Premier League comeback against Arsenal and reaching the final by defeating the European champions. Guardiola believed that to win the Champions League, he would have to dethrone the king. And he did it somewhat, surpassing "Real" in every aspect. Now he will go to Istanbul as the favorite to open a new room in the museum at the stadium. "City" is an innovative team playing great, diverse, and intense football, capable of conquering anyone and adapting to the demands of each game. Money invested by the right people, those who understand football, leads to success. Although Guardiola still has one more obstacle, "Inter," it seems to be a small opponent for this machine."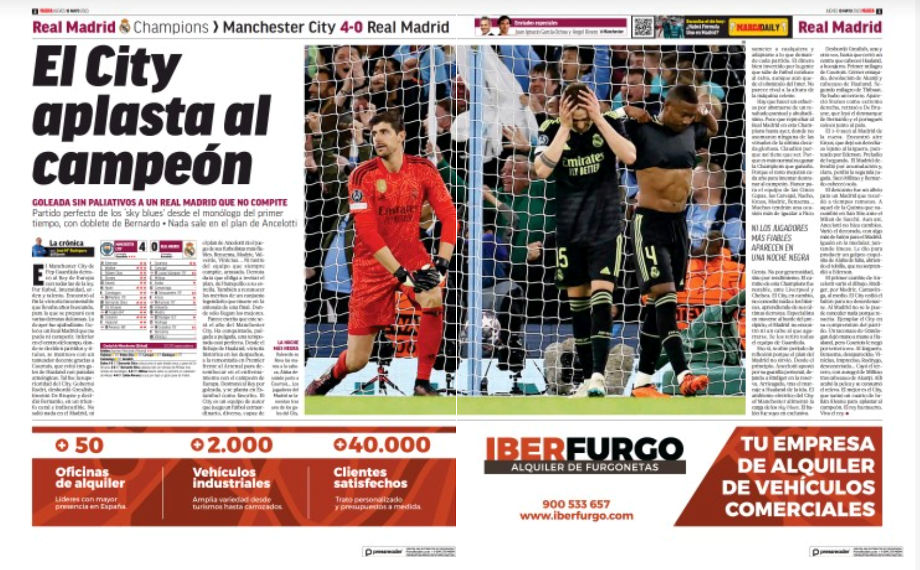 AS: "Real" was weak, saved only by Courtois
"City" was better in every aspect. After the first match, they fully recovered and shone with Bernardo Silva and Grealish. "Real" constantly ran into De Bruyne. "Real" was weak, saved from a more significant defeat only by the guardian angel Courtois.
After this match, Guardiola should talk about his legacy, which has never been as crazy as this evening when "City" reached the Champions League final for the second time, even without needing Haaland. In the previous one, two years ago, he did it in front of an empty and silent stadium due to the pandemic. This time, his triumph was in front of the public. He defeated a lost "Real" team at the Etihad. The white flag will hang low for several days.
Ancelotti's plan failed. Walker overshadowed Vinicius. Benzema played without inspiration and involvement. Rodrigo, Valverde, the veterans - they didn't even put up a fight against the defeat. Courtois was the only survivor in the catastrophe because he was the only one trying to do something."
Sport: "Goodbye, Real!"
"Carlo Ancelotti's team suffered a shipwreck in the first half already: Real was utterly helpless and failed to regroup even after the break. All the Madrid players were far below their usual level. Where was Benzema? He disappeared. The only one saved from being burned was Courtois; although he keeps this time can't rescue the team from a resounding elimination.
Thanks to years of work, planning, efforts (and obviously, significant financial investments), Fate has once again given Guardiola the opportunity to reach the Champions League final. He hadn't lifted the trophy since 2011 when the undoubtedly best Barcelona of all time humiliated Alex Ferguson's Manchester United at Wembley.
Ten years ago, City wasn't even among the top teams in England, not appearing in any rankings, and now the club is on its way to a fifth Premier League title in the last six seasons and the Champions League trophy. And how they do it: with a unique, recognizable, and high-quality football emphasizing the ball and ball possession.
On the other hand, Madrid is aging at the same rate as Manchester City is growing up — now it is a vast team assembled at the stroke of a checkbook and carefully crafted by Guardiola. City and Real have changed the guard in European football. Glory to City, honor to Madrid."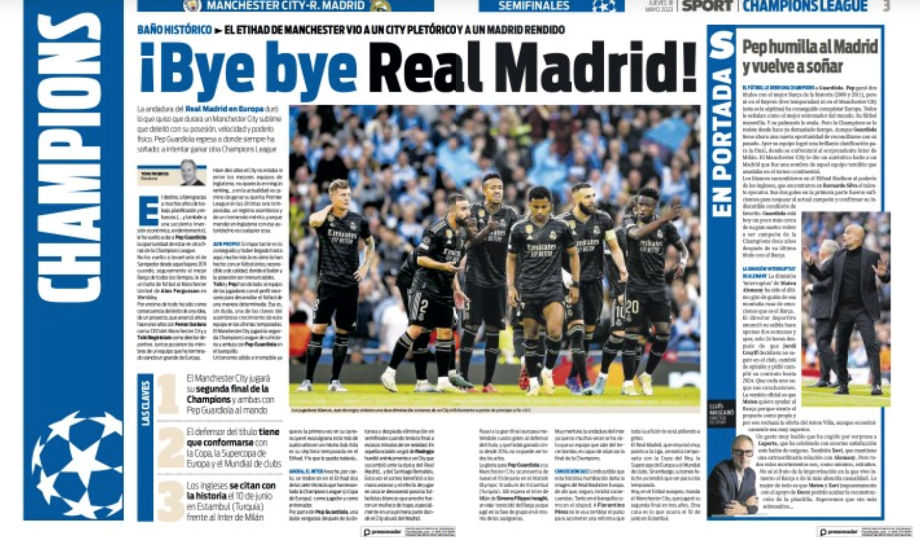 In England, the mood is festive — the headlines scream about City's triumph: "Guardiola's team masterclass," "Blue massacre," "Silva hands Pep the Holy Grail."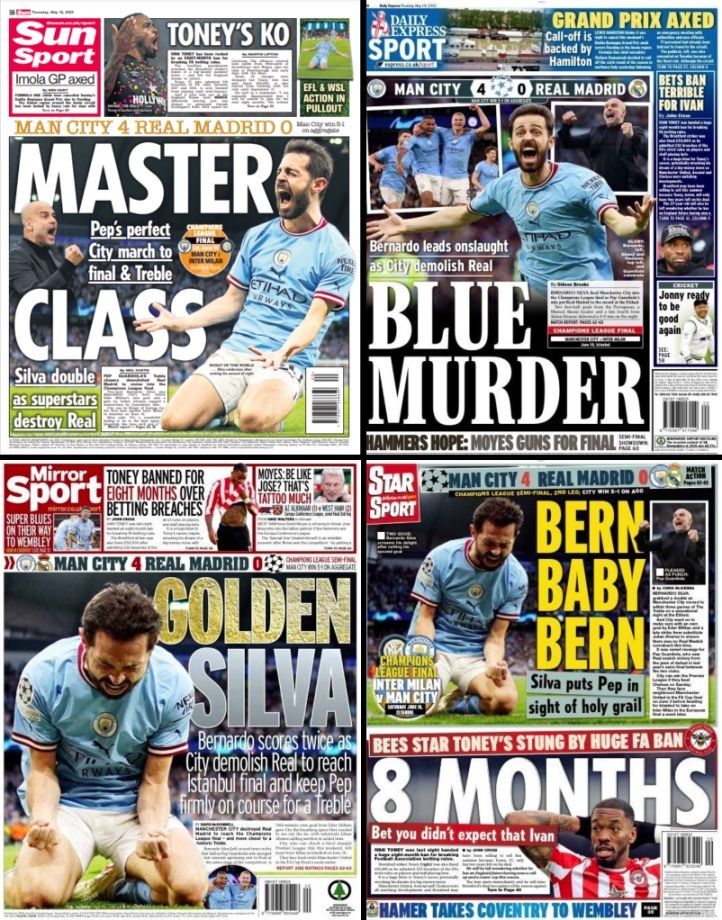 Manchester Evening News: "The Main Fortress of City"
"Forget about Anfield and Old Trafford. Forget about the Bernabeu and Camp Nou. Pay no attention to San Siro, PSG ultras, Bayern Munich, and the madness of Naples. Is there anything more impressive than a match against Manchester City at the Etihad Stadium these days? The statistics suggest there isn't.
Pep Guardiola's team has gone 26 matches undefeated in the Champions League here, winning 24. No other major European stadium can compare to this comfort level for the home team. As Jack Grealish said after the draw: 'At the Etihad, we feel unstoppable.' And they were."
The Guardian: "City's Greatest Performance Under Guardiola"
"By the 70th minute, it was clear that Manchester City had to win, and Real Madrid had to lose, and no changes or tactics, no substitutions could alter that fact.
Real Madrid seemed to realize it too. Perhaps Carlo Ancelotti's team was trailing only 2-0, but the players were already bruised and scarred; they were frightened and tired of running into dead ends where they always encountered blue shirts. The fouls became more intentional and desperate. Even the Spanish commentators in the back of the press box stopped shouting. On the biggest stage, in their beloved competition, the most dominant club in Champions League history was under unbearable stress and deflated. Only Thibaut Courtois' fingertip saves prevented the match from ending in complete humiliation, a scoreline that would have become a separate page in Wikipedia."
Likely, it was City's most outstanding performance under Pep Guardiola, a kind of football perfection, a museum piece. Not just a lesson but an example of sport as a "scorched-earth" strategy. Nothing was left after them. The City fans have earned their moment of unparalleled triumph."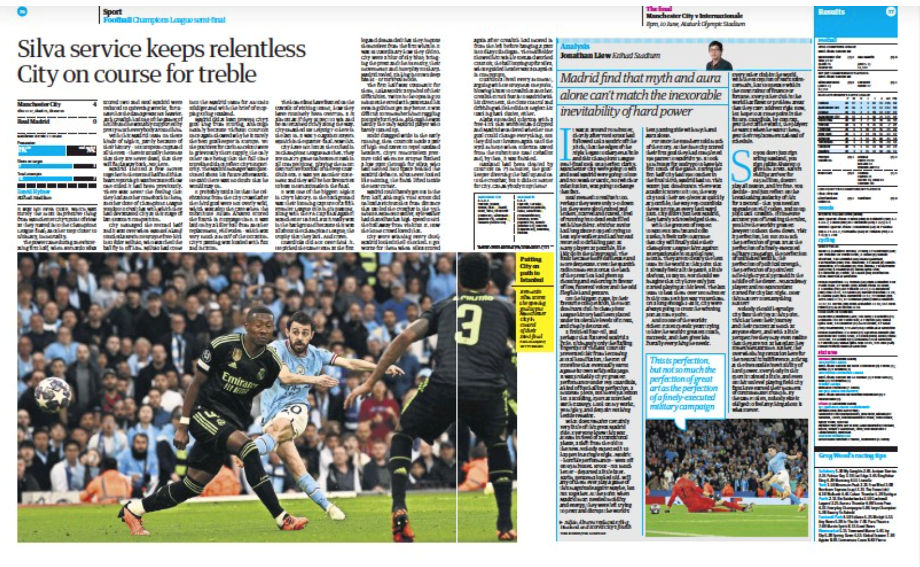 Independent: "Silva's Goals Gutted Real"
"There was a player whose goals were to turn Manchester City into Champions League winners. It wasn't Bernardo Silva. 'Bernardo has never been the top scorer,' Pep Guardiola shrugged in March after one of his favorite players scored at the Etihad for the first time since August. He sounded completely calm. Silva, as he said then, is 'unique.' He was an aggressive presser, a rhythmic passer, a man who could speed up or slow down the game. He was a player he used as an unorthodox left-back or a 'false nine,' but someone you could always rely on to make everyone else play better. But he didn't score much. Then, after five goals in 51 games this season, two came in a quarter of an hour. Against Real Madrid. In the Champions League semifinals. Only two players – Lionel Messi and Robert Lewandowski – have scored twice against Real Madrid in the Champions League semifinals. Silva gutted that Real.
The European champions were humiliated. The new European champions are about to be crowned."
18.05.2023