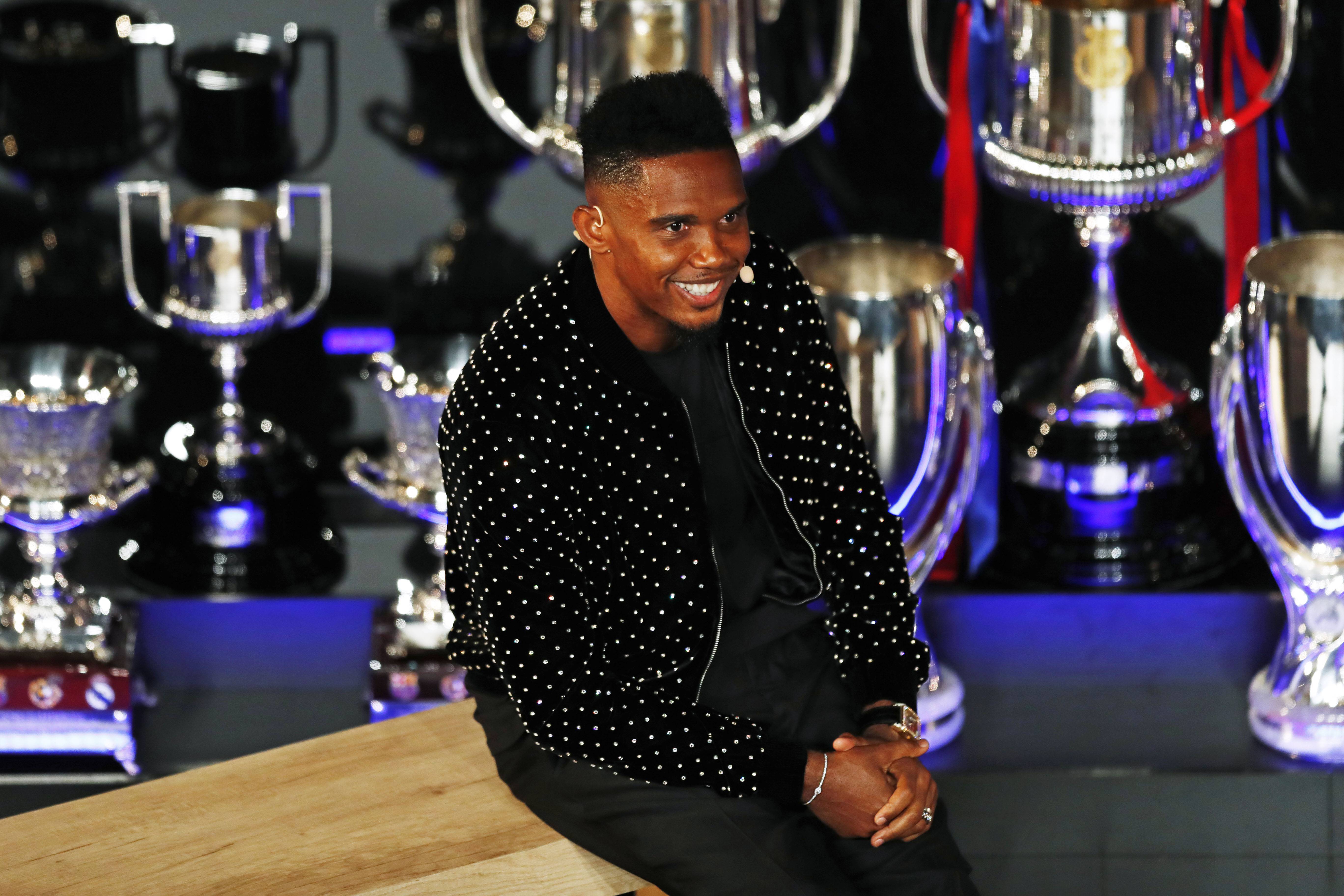 The daughter of former Barcelona, Chelsea, and Anzhi forward Samuel Eto'o is seeking a one-year prison sentence for her father's failure to pay child support. Lawyers say the former athlete owes around €90,000 to Erika Do Rosario Nieves. If found guilty, the President of the Cameroon Football Federation faces an actual sentence, as he is already serving a suspended sentence for tax evasion.
Samuel Eto'o, the former Barcelona footballer and Cameroon national team player, could be behind bars. His illegitimate daughter, Erika Do Rosario Nieves, demands a one-year sentence for Eto'o due to his failure to pay child support.
According to media reports, the former athlete, who now heads the Cameroon Football Federation, owes approximately €90,000. If the case goes to court, the trial will occur in Madrid.
"He has owed child support to his daughter for over five years and continues to ignore the court's decision. Erika's financial situation
is deplorable, while Eto'o lives in luxury," said the girl's lawyer,
Fernando Osuna.
Erika was born in Spain. According to her mother, Adileusa Do Rosario; she met the footballer in 1998 at a nightclub when Eto'o was playing for Leganes. A relationship developed between the young couple, and after some time, the footballer's girlfriend became pregnant. However, Samuel was not eager to become a father. According to Adileusa, he told her that it would be better for her not to have the child and then stopped communicating with her.
Despite this, two weeks after giving birth, Do Rosario went to one of the footballer's training sessions to inform him of the birth of their daughter. He said he would take care of the child but then completely cut off contact.
According to Adileusa, she hoped that, over time, the footballer would change his attitude toward their daughter. At age three, Erika needed kidney surgery, and her mother asked one of their mutual friends, Eto'o, to inform him about the situation. However, the footballer told his friend he did not want to know anything about Erika or her mother, "even if they were dying."
Raising her daughter alone was not easy for Do Rosario, especially considering that Erika had health problems for a long time. From 14 to 18, she had to wear a special brace due to severe scoliosis, and she later underwent surgery due to another illness. However, the Cameroonian footballer, who had become a global star by that time, knew nothing about it and didn't even remember his child. The girl didn't know who her father was until her 18th birthday when Adileusa revealed the truth.
Then, they decided to seek justice, mainly because the family's financial situation was far from ideal.
Did Rosario file for child support in 2018? She demanded a DNA test, but the footballer categorically refused. Based on the mother's testimony, the court then recognized Erika as Eto'o's daughter and ordered Samuel to pay her €1,400 per month. However, the former athlete did not pay a cent.
Therefore, the next step for the family was to file a lawsuit for imprisonment.
"It's all for her, to whom he never gave anything. He didn't even give the girl a single candy since her birth. Absolutely nothing, even
after the court's decision. She grew up without a father, and she's
very sorry that she didn't even have the opportunity to meet him,"
Adileusa said in a comment to La Vanguardia newspaper.
According to lawyer Fernando Osuna, another aggravating circumstance, in this case, is that the former footballer is not the first time he has ignored his paternal responsibilities.
In 2004, the story of another illegitimate child of Eto'o became public. It was a girl who was born two years earlier to Anna Barranca. The athlete also refused to acknowledge the child, and the mother had to fight for a long time to have a DNA test conducted, which confirmed his paternity in 2016. Subsequently, Barranca filed for child support at least twice - in 2019 and 2020 - but Eto'o also ignored the court's decisions.
In 2018, another woman, Maria Angeles Pineda, made a similar claim against the Cameroonian in court. Initially, the court ordered him to pay her €3,000 per month, but the amount was later reduced to €900 because Samuel promised to pay for the child's schooling. However, according to the media, he never fulfilled either promise.
If Rosario's lawsuit is successful, the Cameroonian football official could face actual imprisonment, as he has had legal troubles before. Last year, Eto'o was sentenced to 22 months of conditional imprisonment and fined €1.8 million for tax evasion.
The Spanish prosecutor's office initiated the case against Eto'o back in 2012. The footballer was accused of not paying taxes on income from selling his commercial image rights while playing for Barcelona. The Cameroonian admitted guilt but explained it by saying he had placed too much trust in his lawyer, Josep Maria Mesalles, who allegedly carried out fraudulent schemes behind his back. The representative was also found guilty and sentenced to one year of probation.
05.07.2023