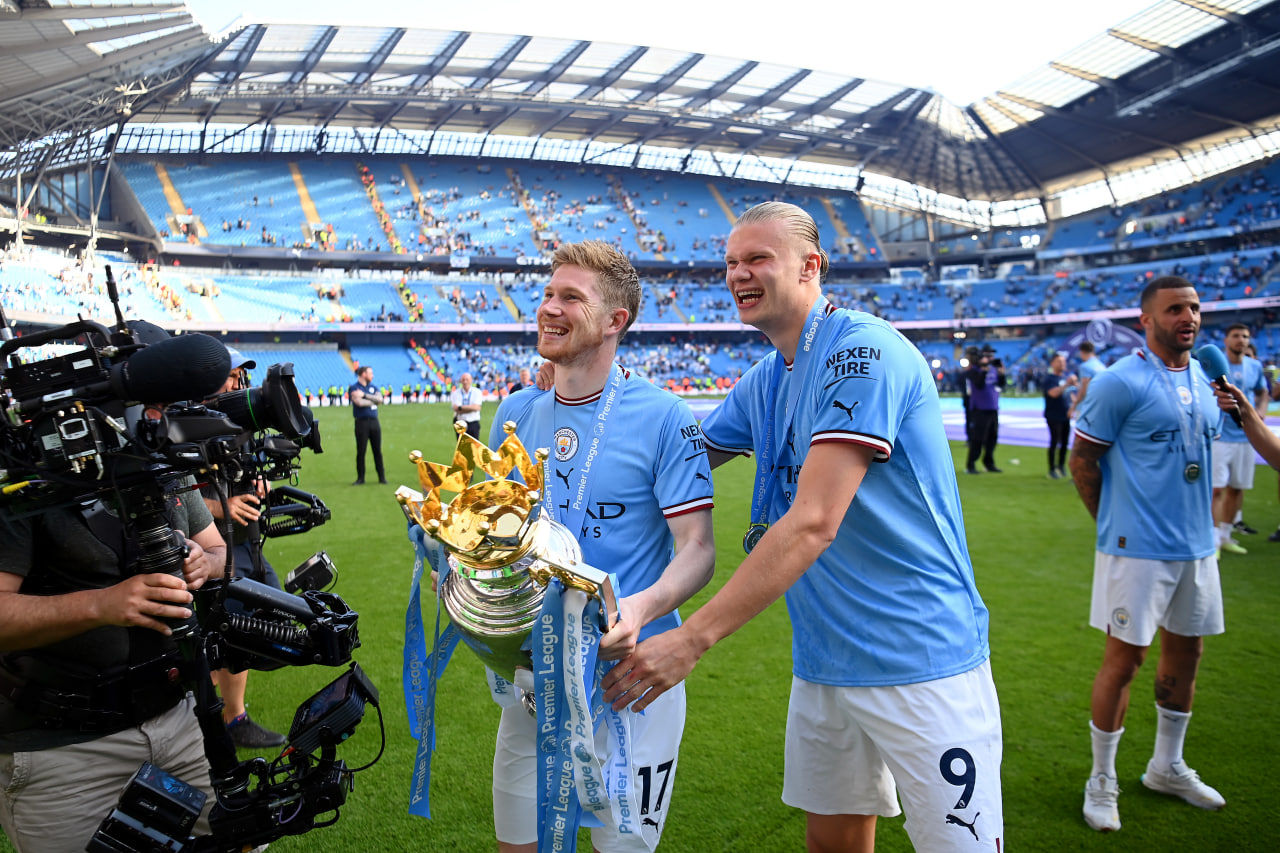 Erling Haaland has been nothing short of a sensation since joining Manchester City in the summer of 2022 from Borussia Dortmund. There was little doubt that the Norwegian would be a good signing for the Citizens, but no one could quite have predicted what was to transpire – perhaps the greatest debut season in the history of English football. Certainly in goalscoring terms. All bets are off with the Canadian sports betting sites for Footballer of the Year and Players' Player of the Year Awards with the Golden Boot already sewn up. What remains to be seen is whether Haaland's season will culminate in a Premier League winner's medal.
So where does the prolific marksman sit in the pantheon of all-time Manchester City greats of the Premier League era? Well, we've decided to take a look. And just for clarity, we won't include any of those bona fide City legends such as Colin Bell, Tommy Johnson and Eric Brook who plied their trade before the formation of the Premier League in 1992.
Premier League legends
Manchester City's greatest goalscorer of all time – currently at least – is the one and only Sergio Agüero, who notched 260 goals in 390 appearances for the club in a ten-year stay after arriving from Atletico Madrid in 2011. He departed in 2011 with no fewer than five Premier League winners medals, and scored some of the most iconic goals in the clubs history.
A long way behind Agüero on this list is long-time teammate Raheem Sterling, who notched 131 times after arriving from Liverpool. The Englishman currently turns out for Chelsea.
Next is a cult hero at City: Shaun Goater. It was a very different City era when the Bermudan turned out in the famous sky blue shirt. Goater was part of the City team that gained promotion via the League One playoffs, and played for the Citizens in no fewer than three divisions, ending three short of a century on 97.
Next up are a pair of players from the more recent vintage of Manchester City. Gabriel Jesus only departed for Arsenal at the end of last season, and was five shy of a century (95) when he left Manchester. Then comes City's highest scorer from the current squad – Kevin De Bruyne - who has so far notched 93 goals in his eight-year stay (and counting).
Two other City legends of recent times appear in 6th and 7th on this list, with Yaya Touré on 79 goals and David Silva on 77. These two players were undoubtedly instrumental in leading City to the top of English football, a position in which the club still resides.
Another current City icon comes next: Riyad Mahrez arrived from Leicester City in 2018, and has since scored 75 times for the club. That's just two more than Carlos Tevez on 73, who sits a further goal ahead of Edin Dzeko. Mahrez's teammate and current City forward Phil Foden is next – the young Englishman has scored 58 times for the club to date, and is the third of five current teammates of Haaland to reside on this list.
City fans of a certain vintage will remember Uwe Rösler's exploits for the club in the early years of the Premier League between 1994 and 1998. The German arrived in a £1 million deal from 1.FC Nuremburg, and became another cult City hero, scoring 54 times for the club. That is the same amount as another current City star, Ilkay Gündogan, whose teammate Bernardo Silva sits just one goal back on 53 goals. And then, in 15th position (currently) is Shaun Wright-Phillips, who scored 48 goals for the club between 2008 and 2011, winning the FA Cup along the way.
And then there he is, with Haaland currently sitting 16th in the all-time list of Manchester City scorers only in the Premier League era (hence no David White, for example). The Norwegian has already notches 47 goals (to date) in just 40 games, including 11 goals in 7 games in the Champions League, and 32 in only 28 Premier League games. If he continues at the pace he is setting now, Haaland will have a stunning 65 goals at the end of this campaign, moving him up to 11th on this list. In one season!
The future?
And here's a stat for you – if Haaland continues at his current scoring rate of 1.18 goals per game (for context, Agüero scored at a rate of 0.67 goals per game), the Norwegian would be sitting comfortably third on this list by the end of next season. And assuming he stays at City and plays an average of 50 games per campaign, he will overtake Kun Agüero before the end of his fifth season in a City shirt. Again in contrast, Aguero was at the Etihad for a decade!
Could we be witnessing City's greatest ever goalscorer in action? Only time will tell.
28.05.2023