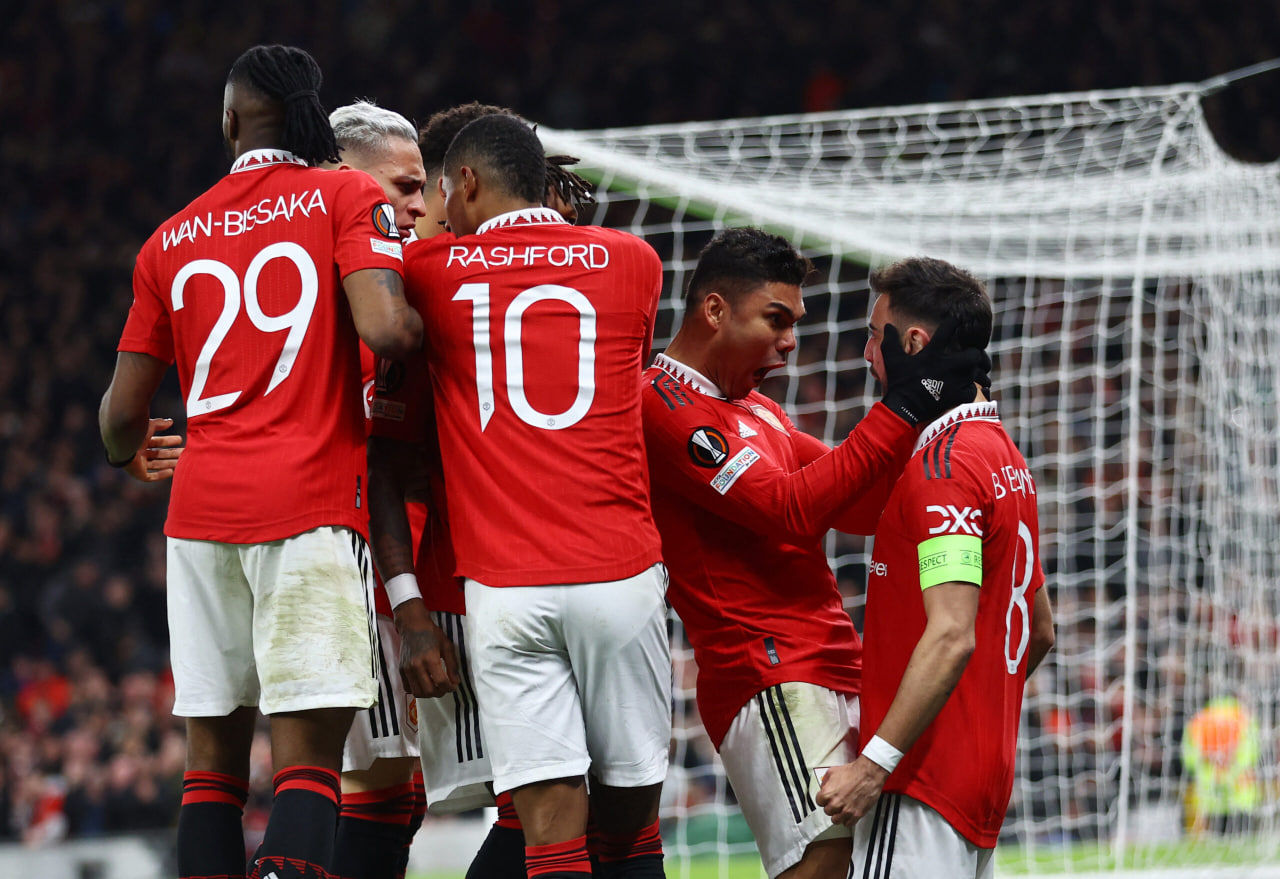 Man United have been one of the surprise teams this season. After a decade of underachievement since the retirement of Sir Alex Ferguson, few expected a quick turnaround under new boss Erik Ten Hag.
That number dwindled even further after defeats in their first two fixtures, including an embarrassing 0-4 thrashing by Brentford. The skeptics have been proven wrong though, because the club is still in contention for a Champions League place as well as for the both the FA Cup and Europa League.
That has got people looking at sports betting on how many multiple successes could be achieved in Ten Hag's first season. Key results signposting United's progress this year included the 2-1 win over Liverpool in the third league game and a derby win over Manchester City by the same score.
Midfielder Casemiro supports the back line, while the removal of Ronaldo has enabled Ten Hag to create a younger attack with greater flexibility and movement. It is these tactics that have made United more free-flowing and entertaining to watch.
Attention is already starting to turn to the next stage of his rebuilding job though and who he will add to the squad for the 2023/24 season. These are some of the names being mentioned.
Strikers
One name that consistently crops up in connection with United is that of Tottenham striker Harry Kane. He wanted to leave his current club before the start of the season and there is little doubt that he would be tempted by a move to Old Trafford.
It has been another impressive season for the 29-year-old, with well over 20 league goals, plus 8 in the Champions League and becoming the all-time top scorer for his country. He would guarantee the sort of goal return that could make a title push a realistic possibility, but would cost a lot of money.
That could see Ten Hag turn to Victor Osimhen for the dominant presence he needs up front instead. The Nigerian Napoli forward is known to want to play in England and has 45 goals in 74 appearances for the Italian club.
Other possibilities include Benfica forward Goncalos Ramos and Evan Ferguson from Brighton.
Midfielders
The club is also being linked with a wide variety of midfield options. Ten Hag added Casemiro and Christian Eriksen in that area last summer, but is rumored to want further remodeling.
One player that may be on his way to Manchester is Gavi. He would undoubtedly add flair and creativity to the heart of the midfield and is blessed with fantastic control, distribution and vision.
If there is a reservation about him it is that his stats for both goals and – more importantly – for assists are not all that impressive. This season he has just one goal and three assists from 26 appearances for Barcelona, while last year he managed two and five respectively in 34 games.
At 18 years old, there is also a real question mark about whether he could slot right into the United first team. That is true of another exciting young midfielder that Ten Hag is being linked with a move for by the media – 21-year-old Manu Kone.
United would potentially face rivalry from Paris Saint-Germain, Chelsea and Liverpool if they tried to sign him from Borussia Monchengladbach. Again he does not really offer goals from midfield, with just one this season, but he has won 7.4% of battles in the air and on the ground and has an 87 pass completion rate.
That suggests he would add both steel and class to midfield.
Defenders
A number of media sources are linking the Red Devils with a bid for Axel Disasi from Monaco. He is a fixture in their team and the French club are likely to want more than £40 million if they are to part with him.
He is expected to leave Monaco though and that makes Old Trafford a possible destination. The 25-year-old central defender would add a commanding presence to the heart of the Man United backline and has the potential to be as good for them as Virgil van Dijk was for Southampton and Liverpool until this season.
He has an average of 0.9 tackles and blocks per game and 1.6 interceptions, but they are stats that Ten Hag can improve. Alternatively, he may opt for Alessandro Bastoni from Inter Milan.
With 1.6 tackles per game, 0.9 interceptions and 0.3 blocks, there is little to choose between them statistically. The 23 year old is still pretty raw though and neither of these players guarantee United an instant top class center back for the start of the 2023/24 season.
It will be interesting to see which of these players arrives at Old Trafford and how United progress next season.
23.06.2023