In a captivating interview to Guillem Balagué from Johnnybet.com, renowned football figure Patrick Kluivert shared his thoughts on the recently concluded 2022-2023 football season. Kluivert, a football legend who achieved success as both a player and coach, discussed various aspects of the season, including the World Cup, Lionel Messi's performance, Pep Guardiola's influence, and the managerial skills of Xavi Hernandez at Barcelona. Let's delve into the highlights of Kluivert's insights on these topics.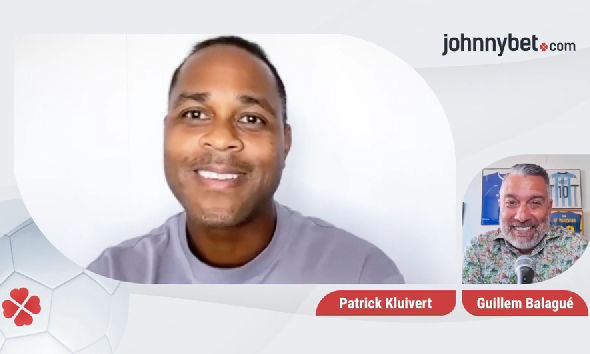 The Impact of the World Cup
Kluivert acknowledged the disruption caused by the World Cup in the middle of the season. While it provided an opportunity to witness an exceptional tournament, the break had positive and negative consequences for clubs and players.
The Epic World Cup Final
Having attended the World Cup final, Kluivert described it as one of the season's best games. He highlighted the outstanding performances of players like Kylian Mbappé and Lionel Messi, emphasizing the excitement and intensity of the match.
Lionel Messi's Legacy
Kluivert admired Lionel Messi's achievements and labeled him as one of the greatest, if not the greatest, player ever. He highlighted Messi's numerous accolades, including seven Golden Balls, multiple Champions League trophies, and recent triumphs in the Copa América and the World Cup.
Pep Guardiola's Impact at Manchester City
Discussing Manchester City's success, Kluivert praised Pep Guardiola's coaching prowess. He commended Guardiola's ability to create cohesive teams and maximize the potential of his players. Kluivert emphasized the importance of squad depth and credited Guardiola for maintaining a solid bench, which is crucial in long and demanding seasons.
The Premier League Title Race
Kluivert anticipated a challenging title race in the Premier League next season. While Manchester City remains formidable, he identified teams such as Arsenal, Newcastle, and Chelsea as potential challengers who could threaten City's dominance. He also acknowledged the progress made by Manchester United under the guidance of Erik ten Hag.
Xavi's Influence at Barcelona
Kluivert discussed the impact of Xavi Hernandez, his former teammate, as the manager of Barcelona. Despite facing certain limitations, Xavi demonstrated his strategic insight and led the team to success in the Spanish league. Kluivert acknowledged the team's strong defensive performance and suggested that strengthening the attack would be a priority for Xavi in the upcoming season.
Conclusion
Patrick Kluivert's insights highlighted the key moments and personalities that defined the 2022-2023 football season. From discussing the World Cup and Lionel Messi's legacy to highlighting Pep Guardiola's managerial skills and Xavi's impact at Barcelona, Kluivert provided a comprehensive analysis of the season's highlights. As fans eagerly await the following season, the football world continues to be captivated by the stories and performances that shape the beautiful game.
22.06.2023