The grandpa has been supporting the club for almost a century!
Manchester City organized a fantastic event: a global tour bringing all three season trophies to their most dedicated fans.
The first stop was a nursing home in Manchester, where 102-year-old Jeffrey Rotband, the oldest City fan, resides. He has been supporting the team since the 1920s!
Nearly a century with his beloved team!
Steel-willed Jeffrey has influenced several generations of City fans.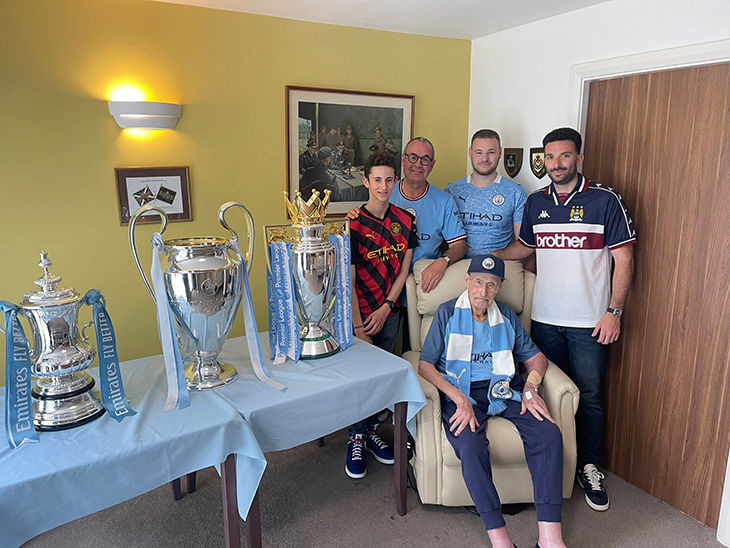 Rotband has witnessed almost all the titles in City's history, except for the first, the FA Cup in 1904. He has endured the club's most challenging times and has been a regular visitor to the stadium.
"Thank you, Manchester City, for bringing happiness to an old man. To bring all the trophies to my father's nursing home just before his 103rd birthday next month... it's simply incredible. The fans are celebrating together. We are a family," shared Jeffrey's son.
Another remarkable story is that of 83-year-old fan Jim Dolan.
Six weeks ago, Jim suffered a stroke and couldn't attend the Champions League final against Inter. He gave the ticket to his son, who doesn't like football but agreed to go to Istanbul for his father's sake.
The Dolan family jokingly says that at least someone from their family had to witness such a moment live.
Jim is gradually recovering, and Manchester City couldn't overlook life's injustice: they brought the trophies home to the fan!


"I've had a season ticket since I was 14, bought my first ticket in 1974," Jim happily shared in an interview with the Manchester Evening News. "I started working a year before that and lied about my age to earn a pound weekly. That's how I saved up my season ticket at the old Maine Road.
Before the last game of the season, I felt unwell. It seemed like COVID, but it was a stroke. A few days later, I went to an ophthalmologist. And they sent me to the hospital. My life changed. I saw the last five minutes of the FA Cup. I was feeling unwell, but I watched the Champions League final. I couldn't miss it. Just couldn't!
And now the Champions League trophy is sitting right in my kitchen. Nothing like this will happen again in my life."
12.07.2023